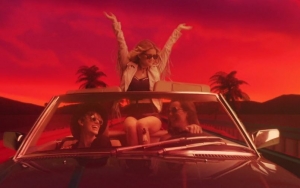 Maren Morris didn't hold any visual effects back from her new "80s Mercedes" music video. Maren teamed up with renowned director Alon Isocianu for the video, which was shot in Los Angeles using primarily green screen technology. Splashed with bright colors and stunning effects, the video shows Maren and her friends as they cruise down the street in a classic 80's Mercedes.  The video can be seen here.
Morris says the video for "80s Mercedes" has been in her mind since the day she first wrote it. She shares, "I wanted the visuals to feel really neon, hyper stylized and fun. Like a graphic novel on acid. Alon's vision matched the song perfectly and I couldn't picture a more fitting representation of the song!"
The music video also includes a cameo by one of Morris' childhood friends. Before the decision was made to shoot the music video, Maren promised that she'd invite her friend to make a cameo.
http://vevo.ly/uzAjTE